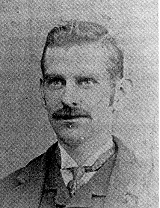 44. Edward James Bartlett was born on 9 Sep 1855 in Rownhams, Hampshire, England. He died on 23 May 1926. Edward married Isabella Sarah Ellis on 9 Aug 1877 in Friern Narnet Parish Church, St. James the Great. [Parents]
Edward James Bartlett and Isabella Sarah Ellis
England, and indeed the world, was a very different place in 1855 than it is now. Queen Victoria was in only the eighteenth year of her reign and England was in the middle of the Crimean War, a war in which Florence Nightingale became famous for her nursing efforts.
The telephone had not yet been invented and since there was no electricity, there were none of the household appliances to which we have become accustomed. In urban areas, gas was available for heating and lighting, but in rural areas, coal oil lamps or candles were used for lighting and wood or coal was used for cooking and heating.
Neither automobiles nor even bicycles had been invented, but a network of railways had been established between the major English cities. Apart from public transport, the most usual method of covering short distances was in a private carriage, on horseback or on foot.
It was in this setting that Edward James Bartlett was born on September 9, 1855 in the small hamlet of Rownhams, which is now a suburb on the northern outskirts of Southampton, Hampshire. He was the youngest of six known children born to Nathaniel Bartlett and his first wife Martha Sawyer.
Edward spent the first years of his life in Rownhams where his father was an agricultural laborer who later became a farm bailiff. Edward did not really know his mother however, as she died before he was two years old.
In 1863, when Edward was eight years old, his father remarried and Harriet
Bourne became Edward's step-mother.
The family stayed in Rownhams until moving to the Hadley Highstone, Middlesex area. The move occurred some time before 1868 when the first of Edward's half-brothers were born and it appears that his sister, Emmeline Elizabeth was the only one of Edward's siblings to make the move with his father and step-mother.
Isabella Sarah Ellis was the first child of James Ellis and his wife Harriet Woodard. She was born in 1854 while her parents lived in Enfield, Middlesex. Isabella and her family moved several times while she was growing up. Before she was two years old, the family moved to Hertfordshire and lived in Goffs Oak where her two oldest brothers were born.
After a possible short stay at Uxbridge, the family moved on to Mimms Village and then to Barnet, where they eventually settled. By 187 1 . Isabella had left home and was working as a domestic servant at Friern Barnet.
It is not known when they first met, but Edward James Bartlett and Isabella Sarah Ellis were married on August 9, 1877. The wedding took place at the Friern Barnet Parish Church, St. James the Great. The witnesses at the wedding were Edward's sister Emmeline Elizabeth and her husband William Rogers.
Edward and Isabella raised ten children to adulthood, although it is believed that they may have had as many as another six children that died in infancy. Their first child, Edward Nathaniel was born on November 13, 1877 in Hadley Highstone, Middlesex.
By 1881, two daughters, Florence Annie and Celia Snow had been added to the growing family. According to the census taken that year, Edward James was listed as the head of the household and living with him were his wife, the three children, his father Nathaniel, step-mother Harriet, half-brother Frank, half-sister Frances, and a boarder named Abraham Jones. Edward and his father were both listed as greengrocers and it is likely that they worked together.
Edward and Isabella lived at Hadley Highstone until after their seventh child, son John (Jack), was born in the first quarter of 1894. Frederick and Frank had been born in 1888 and 1891, while Minnie May was born in 1892. The family and Edward then moved to a house at 12 Se right Road in Barnet, Hertfordshire, to be a bigger move than it carried on his greengrocer business- This seems another, in distance actually was, for although they moved from one county to the move was probably no more than a mile (see map). s Isabella gave birth Three more children were added to the family in Barnet, Lilian Nita in 1895, Arthur Stanley in 1896 and Alma Vera in 1899.
As soon as his children were able, Edward had them helping on his rounds and looking after his horses. The Bartlett girls had to drive the horse and cart to the market in London to get the fruit and vegetables early in the morning. They then had to walk home because the cart was so loaded. They had to hire a
cockhorse to help pull the cart up Highgate Hill.
From what most of his children have said, Edward seems to have been a rather hard man. Sometimes after spending time in the local Pub, he would come home, get his horse whip and line his daughters up against the wall. It is not known that he actually whipped them but he certainly scared them.
Edward would often call in at his favorite Pub on Union Street after finishing his round, leaving the horse and cart outside. The horse would only wait so long then head home to be unharnessed and fed by the girls. For all his faults however, he seems to have been a good provider. In photographs, the family always appears to be well fed and well clothed. He also prospered, owning the two attached houses No. 10 and No. 12 on Sebright Road.
On March 5, 1909, Isabella died and was buried at Christ Church Cemetery, Barnet. Some time later, Edward took up with another woman named Elizabeth Banham who he eventually married. She was not liked by his children and they always referred to her as just "Banham".
It is not known exactly when, but probably in 1915 or 1916, Edward gave up his greengrocer's business and took over the "Red Lion" Inn at Mumby, Lincolnshire, his youngest daughter Alma and Banham accompanying him. Edward spent the rest of his life there, dying on May 23, 1926. His body was returned to Barnet and buried with his wife Isabel.
In Edward's will, he made provision for all of his children except for Frank who seems to have been the black sheep of the family. The Probate Record reads:
"The will of Edward James Bartlett, of the Red Lion Inn, Mumby Lincolnshire died 23rd May 1926. Administration (with will) Lincoln 29 July to Elizabeth Bartlett widow.
Effects f,1268 7s 5d."
The full text of his will is as follows:
"This is the last Will and Testament of me, Edward James Bartlett of the Red Lion Inn, Mumby in the County of Lincoln, Licensed Victualer, hereby revoking all former Wills by me made. I appoint my son in law Cecil Dawes of 42 Hamilton Road, East Finchley, London and my friend Herbert Shipton of Alford in the County of Lincoln, Solicitors Clerk to be the Trustees of this my Will. I give devise and bequeath to my daughter Florence Dawes my house numbered 10 Sebright Road, Barnet in the County of Herts and my house numbered 12 Sebright Road, Barnet and adjoining the last named to my daughter Alma Scott, the wife of Walter Scott of Spring Villa, Leicester Road, New Barnett, absolutely subject to the payment by them in equal shares of any duty which may be claimed in respect of such houses. I give devise and bequeath to my children Edward Nathaniel Bartlett, Celia Snow Barker, Frederick Bartlett, Minnie May Faulkner, John Bartlett, Lilian Nita Curtis and Arthur Stanley Bartlett in equal shares and free of all duty the money belonging to me and now on deposit at the Alford Branch of Messrs. Barclays Bank in my name and in the name of the said Cecil Dawes together with all interest thereon up to the date of my death. Subject to the payment of my just debts, funeral and testamentary expenses, I give devise and bequeath the remainder of my real and personal estate whatsoever and wheresoever to my Wife Elizabeth Bartlett absolutely. In witness whereof I have hereunto set my hand this third day of May, one thousand nine hundred and twenty six."
The will was signed by Edward and witnessed by J ' Fisher, a Motor Driver from Bilsby near Alford, and by R. Chester, a farmer from Helsey also near Alford.